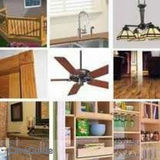 James or Cindy H
Bubbas Handyman Service Your One Stop Shop!
Handyman in Richmond, Virginia
Licensed Insured Your One Stop Shop 804-329-... Repair, Installation, Improvement, Maintenance, Replacement, Assembly, Change Out, Remodel, Reconstruction, Restoration, Renovation, Property Management, Turn Key, HVAC, Plumbing, Appliance, Carpentry, Masonry, Concrete, Window, Door, Carpet, Foundation, Water Proofing, Weather Stripping, Duct, Vent, Cleaning, Gutter, Shutter, Down Spout, Roof, Siding, Flashing, Fascia, Frame, Vapor Barrier, Mold, Closers, Shelving, Drywall, Painting, Storm Damage, Debris Removal, Cleaning Service, Deck, Fence, Gate, Glass, Sill, Threshold, Sky Light, Attic Fan, Ceiling Fan, Exhaust Fan, Edging, Brush, Bush, Junk, Boiler, Furnace, Air Conditioning, Freon, Radiant, Heat Pump, Chimney, Insulation, Power Washing, Flooring, Wood, Tile, Linoleum, Vinyl, Ceramic, Laminate, Aluminum, Pavers, Sub Flooring, Bollards, Swing Set, Trampoline, Jungle Gym, Play Yard, Brick, Block, Drain, Clog, Leak, Water Heater, Faucet, Toilet, Shower, Pipe, Bathtub, Sink, Hose Bib, PVC, PPC, Pex, Iron, Cabinetry, Stain, Caulk, Seal, Glaze, Washer, Dryer, Dishwasher, Garbage Disposal, Refrigerator, Microwave, Oven, Stove, Range, Element, Range Hood, Lighting, Decoration, Curtain, Drape, Rod, Ramp, Hand Railing, Garage, Attic, Basement, Patio, Stairs, Step, Grab Bar, Security Bar, Driveway, Sidewalk, Walkway, Pet Door, Commercial Refrigeration, T V Wall Mount, Wiring, Blind, Door Bell, Door Knob, Deadbolt, Peep Hole, Hinge,......References Upon Request!
Services
Applicance maintenance and repair
Door installation and repair
Drywall installation and repair
Gutter cleaning and repair
Senior living modificiations
Window installation repair
Recommendations
Mark Denver
I have used Bubbas Handyman Service on several different projects that we needed done. Gutters cleaned, gutter guards installed, new faucet bathroom and bathroom installed among several other things over the years. We have always received quality service and nice prices each time. They are very respondent to our needs. Clean, Affordable, Friendly. These gentleman are truly a one stop shop they can take care of just about anything that you have.
W. Fernhill
James/Bubbas Handyman Service has done several different projects at my rental homes in Richmond, Va.. Whenever I have an issue at one of them I have called James, (and still do), for the repair of whatever may be wrong. He has always given me professional service as well as decent prices. James has been taking care of my homes 4 years now, he has always done great work, friendly, polite. Recommend.
Gretchen Foxx
Bubbas Handyman Service has always given me quality, professional service and good prices. They have saved me money in the long run, I am paying for a variety of repairs to be done by one person, so this has saved me expense having to hire 3 or 4 different people to come out for various items. Recommend.
Share This Profile
Find Handyman in Richmond, Virginia
More in Richmond, Virginia