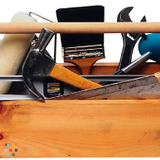 John S
Need A HANDYMAN For Minor Household Repairs, Painting, Moving etc.?
Handyman in Fort Lauderdale, Florida
Do you need help painting your house, a room in your home, a wall, or outdoor fence? What about minor household repairs needed? If you prefer discreet and private assistance, instead of hiring a large crew with your personal belongings, contact us! We are reasonably priced, and can work within your budget! Just describe the job, and we will see if we can accommodate whatever it is that you need! |PAINTING| - Ceilings - Bedroom - Walls - Protective coating - Garage - Outdoor - Fences - Driveway - Patio - Wood stains |HOUSEHOLD REPAIR & MAINTENANCE|* - Drywall & sheetrock repair - Holes in walls - Window sealing - Window washing - Installing wood flooring - Installing Vinyl sticky tile - Carpet removal - Demolition - Pluming problems (leaky faucets etc. - Roof gutter cleaning |PRESSURE CLEANING| - Roofs - Driveways - Outdoor home walls - Paint removal |HELP WITH MOVING| - Moving into new apartment or house - Shifting items from one room to another - Relocating storage items into garage or warehouse - Box packing*, unpacking and Item placements - Rent a moving truck and we will move your belongings for you - Have your own truck, we will pack, move, and unpack belongings - Pick up from store to home - Furniture moving or rearranging - Last minute inquiries and help - Daily and hourly rates Quotes According/Depending On: - Type of job - Distance traveled - Size & length of job - One or two-story home - Moving location - Unpacking or packing needed - Hours needed - Privacy needs - Day or night - Weekdays or weekends - Weather *Must provide your own packing material if you need us to box items for you before moving. *Must provide your own materials for home projects (paint, tiles, etc.) *If possible, end images of job by email or phone for a speedy quote. Call or text me for a quote: 954-864-...
Services
Door installation and repair
Drywall installation and repair
Ductwork installation and cleaning
Gutter cleaning and repair
Window installation repair
Share This Profile
Find Handyman in Fort Lauderdale, Florida
More in Fort Lauderdale, Florida