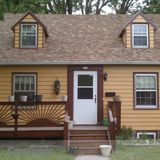 Paul R
Handyman needed for maintenance in Brookings, SD
Brookings, South Dakota
Last seen over a week ago
Want to be hired by Paul?
Handyman Job in Brookings, South Dakota
Brookings Handyman Work (This document also available at https://....com)

• Vinyl Flooring in Living Room and Dining Room: The glueless "lay flat" vinyl has already been purchased, cut, and laid on the floor in the area.
Pictures to help explain current state: https://....gl
Still remaining are the following steps:
1. Trim vinyl were necessary to allow a ¼" gap from wall, air vents, or other irregularities around the perimeter
a. Vinyl should lay flat on the floor without bumps or humps or wrinkles
2. Seam Vinyl flooring in Dining Room (Borders and where two pieces butt together)
3. Place a few (very few, so it is removable) pieces of seam tape at doorways of vinyl flooring in Dining Room and Living Room to keep flooring from lifting up where no transition pieces are used – like at front door
4. Cut small piece of gray wood border vinyl to fill gap between kitchen floor and dining room floor
a. See Picture for exact location
b. Gray wood border vinyl is in the closet of the main level bedroom
5. Install quarter round around edges of living room and dining room walls and borders to hide ¼" gap and mask any cutting irregularities in the vinyl
a. Quarter round should come to a 45 degree angle at corners (see existing quarter round installation in rest of house for example, if necessary)
6. Ensure dining room vinyl fits under existing transition piece into kitchen
7. Install new transition piece between dining room and original hardwood flooring in hallway
8. Install new transition piece between dining room and living room

• Mount Microwave above range Microwave has already been purchased, and it is replacing a previous above-range unit that stopped working. There are no mounting brackets or hardware, it will hang directly from the cabinet above the range. Images: https://....gl
1. Need to determine quantity and proper diameter and length of screws for microwave
a. Drill holes for screws through cabinet to location of mounting holes on microwave
b. Check fit of microwave/hold in place
c. Ensure microwave is plugged into outlet on wall behind mounting location and that microwave has power and is working before continuing
d. Hold microwave in place while screwing through bottom of cabinet surface into microwave mounting holes
e. Use large solid washers against cabinet surface to spread weight load of microwave

• Stairs down to basement: Stairs are currently carpeted, however that carpet needs to be replaced. My preference is to remove the carpet and replace it with whitewood stained stairs, however I am open to suggestions if you believe substantial savings can be achieved by re-carpeting instead of converting to stained wood stairs.
Pictures of current (carpeted) stairs: https://....gl
1. Remove carpet from basement stairs
a. Treads (1" x 12" x 8' Pieces of Whitewood):
I. Route edge of 1 x 12 x 8' piece
ii. Measure and cut (Length approximately 48", width approximately 11.25")
iii. Stain and apply three coats of gloss oil-based polyurethane (Lightly sanding between coats)
iv. Affix new tread to stair (Screws and adhesive)
b. Use 1 x 8 x 8' pieces for risers
I. Measure and cut (Length approximately 48", height approximately 7.25", shim if needed)
ii. Stain and apply three coats of gloss oil-based polyurethane (Lightly sanding between coats)
iii. Affix new riser to stair (Screws and adhesive)
2. Install carpet runner on stairs

• Miscellaneous/Other tasks:
1. Use ceramic glue "Fix-It-Stick" to glue the two pieces of the toilet tank top/cover together
a. Clean any/all loose ceramic and porcelain dust or pieces from surfaces before gluing
b. Pieces of toilet tank top are in the closet (small door) inside the basement bathroom
c. Hold pieces together until set
d. After gluing, can stand tank cover on end and/or lean against wall to use gravity to help press pieces together
e. Reinstall after adequate bonding time (according to package instructions) has elapsed
2. Affix new clear plastic rain-guard to window well on back patio
a. Picture: https://....gl
3. Attach wireless doorbell to front door (Receiver should go in kitchen)
4. Attach new toilet seat to toilet on main level (Picture: https://....gl)
5. Fix/fill in chip in kitchen countertop tile? (Picture: https://....gl)
6. Drawer and cabinet liner (Kitchen drawers and cabinets, main level bathroom, upstairs linen closet)
7. Place 12-volt battery into smoke detector in upstairs west bedroom and mount smoke detector back on ceiling

I will provide major materials, you will provide labor, tools, and small items like screws, nails, scissors, etc. Please give a quote for each major bulleted work item, and an estimate of how long it will take. Feel free to study the pictures and ask as many questions as you need to get the quote right - it doesn't do either of us any good if your quote is not accurate or if there is a misunderstanding on what is to be done.

This is a rental house, and the tenants are moving in this week, so the sooner I can get these things done the better.

Thanks!
---
Services Needed
Applicance maintenance and repair
---
Similar Profiles Nearby
Near Brookings, South Dakota

Paul R
Handyman needed for maintenance in Brookings, SD
Find Handyman Jobs in Brookings, South Dakota
More in Brookings, South Dakota
Want to be hired by Paul?
Similar Profiles Nearby
Near Brookings, South Dakota

Paul R
Handyman needed for maintenance in Brookings, SD