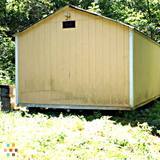 Selva T
Need roof removed on stick-built storage shed to prepare it for moving by tow truck 6 miles across Weaverville
Weaverville, North Carolina
Last seen over a week ago
Pay negotiable
Want to be hired by Selva?
Handyman Job in Weaverville, North Carolina
I bought a 4-year old, stick-built, pre-fab 12' x 24' storage barn, used. Painted yellow originally. You can go examine it at 235 Eller Cove Road. It's in fine shape.

I need it moved to 22 King Road, on the other side of Weaverville. I've called every shed mover from here to Atlanta, and no one with a shed trailer will move "a trailer not made by us." "We'll happily build you a barn, or sell you one pre-fab, and deliver it anywhere, anytime for free, but we can't move one you already own."

Hmmm. I think lawyers and insurance agents have gotten involved in the shed moving business, and monkeyed everything up. What else?

But, since no one with a shed trailer has their lawyer's permission to move a used shed, this shed can only be moved by wrecker truck, Those guys don't have any worries about moving sheds. Just say where and when.

But using a wrecker raises the shed too high off the road -- it will run into power lines and freeway overpasses along the route. That's not fun for anybody.

The wrecker bed sits 4 feet 4 inches high, and the shed roof peaks at ten feet exactly. Fourteen feet four inches is too high for the bridges and electrical wires along any of the three routes between these two locations. So the roof has to come off the shed to pursue this approach, which will reduce the shed height to 92 inches (7' 8"), and it will then sit on the wrecker at a total height of 12 feet or so. That will esily clear underneath all the obstacles along the way.

Ripping off the roof just to move the building is a whole lot of trouble, yes, but unless someone with a shed trailer is willing to move this shed, it has to be done this way.

If you can find me a shed mover with a trailer who will move this barn, that's a hundred dollars as a finder's fee in your pocket. So ask around, okay? None of this should be necessary.

The shed has a shingle roof, MDF roof panels, and bare 2" x 4" rafters and joists inside. The interior walls are studs and MDF siding. The exterior walls are plywood panel siding, painted yellow.

There are thirteen simple rafter trusses, just three pieces held together with a small MDF gusset. There are no joist hangers or other metal connectors.

This roof can be knocked apart with a hammer and crowbar in about an hour. Some pieces of siding at either end will need to be cut off at the 92" height. A simple jig saw or circular saw can do that -- it needs to be battery or generator powered, as there is no electricity at the Eller Cove site.

Before moving, 11 of the rafters will have to be replaced by horizontal 2" x 4" cross pieces to replace the support the rafters give the building. Can't have it rattling apart on the way down Reems Creek Road.

There is electricity at the new site on King Road, so all kinds of power tools can be used to reassemble or replace the roof. Perhaps the old roof can be reassembled, perhaps a new one can be built in the same way, or perhaps a sloping roof can be put on it, with 2" x 6" supports for a metal roof. Whatever works.

This is probably a two man job, but not necessarily. It's simple demolition, then framing and covering a new roof on the building. Maybe the existing rafters can be saved, maybe not. Maybe the MDF roofing can be saved and reused, maybe it needs new panels. Whatever. Lowes is just down the road.

The County wants tie-downs at each corner, since this is a windy area on King Road. The shed will sit on concrete blocks on a previously prepared gravel bed. We have all the blocks and timbers needed to do the levelling, and hydraulic jacks.

A six to ten foot step ladder will probably be needed, claw hammers, probably a battery powered jig saw. If you can truck the rafter pieces to the new location, that's a plus. I can truck them over in my pickup in any case. It's not far, just six miles.

I already have a building permit for the move, already have a wrecking tow truck lined up. I just need the roof removed and then put back together at the new location.

Payment will be in cash for the finished building, roof replaced, sitting level in place with tie-downs at each corner. What you charge for the finished job will be paid. The wrecker driver will be paid separately for the move.

cell ph--... or 828-484-... ask for Selva
---
Services Needed
---
Similar Profiles Nearby
Near Weaverville, North Carolina

Samuel S
Handyman for Hire (826 west walnut street)

Selva T
Need roof removed on stick-built storage shed to prepare it for moving by tow truck 6 miles across Weaverville
Find Handyman Jobs in Weaverville, North Carolina
More in Weaverville, North Carolina
Want to be hired by Selva?
Similar Profiles Nearby
Near Weaverville, North Carolina

Samuel S
Handyman for Hire (826 west walnut street)

Selva T
Need roof removed on stick-built storage shed to prepare it for moving by tow truck 6 miles across Weaverville